Mike Stern - All Over The Place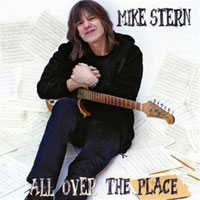 ---
Mike Stern Gets Musically All Over the Place
The guitar is a musical instrument that lends itself well to any style of music and Mike Stern is out to prove it. With "All Over The Place" he brings a legend filled cast into the studio to produce a jazz influenced record that shines.

R&B, rock, swing, and funk are all covered with grace and style throughout the eleven songs that make up the album.

What Stern does well, though, is craft these songs together in a way that they all fit together seemlessly with a flow that is non distracting allowing you to be swept away by the melodies and moods. One thing that moves through every single song is the tremendous bass guitar skills. There are eight bassists on the record and each one lays down just what is needed underneath Mike's guitar playing.

One reason Mike stands out on "All Over The Place" is because he never goes over the top. Every guitar lick, every chord, is just right. He's not showing off, he's creating a living sound.

Every musician is allowed to shine for the sake of the song. Some of the greatest jazz drumming in years is found inside of these tracks.

There is plenty of technical ability on the album, that can't be denied. But even on tracks like "Light" there is a catchy underside that keeps you listening even if you get lost in the combination of guitar and saxophone solos.

Fans of any kind of music will love this. It serves as a jumping point into new genres, new sounds, and new breathe for the music world. Get this album, feel the groove.
Videos
Mike Stern All Over the Place "Making of" Trailer video
Sound Samples and Downloads