Buckethead - The Silent Picture Book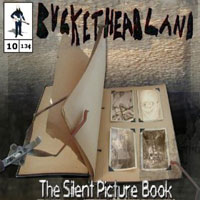 The Silent Picture Book
by Buckethead
Label: Independent
Release Date: September 20, 2012
Rating (out of 5):
---
Buckethead Will Make You Feel Terrible About Your Abilities, Again
Brian Carroll, otherwise known as Buckethead, is unarguably one of the most astounding guitar players at the moment. With a relentless arsenal of diverse albums in his discography to his collaborations with Guns n' Roses and
Serj Tankian, Buckethead always offers something new and challenging for musicians and fans of progressive minded music alike. The man has forty albums under his belt and has played on more than fifty by other artists. The problem is that his appeal lies mainly in the guitar player and for an outsider it can be hard to distinguish the difference between any album of his.

His catchy songs are catchy, his metal musings are fierce, and sometimes you have to stick with him and hope that it makes sense musically. All of these Buckethead staples are contained within "The Silent Picture Book." He is not afraid to experiment, but luckily you are in good hands.

The album is a ride for both guitar players and laymen alike. The album kicks off with a fierce speed metal riff as we enter "Dweller By The Dark Stream." A few minutes into "Blind Cyclops" you might start wondering what is going on, but luckily this is precisely when he swoons you with "Flea Market." Buckethead always seems to know how to make it OK.

This is why the album works. Just when you think it's all too much, he dials it back just enough to bring you back in. For anyone who is a fan of guitar driven music "The Silent Picture Book" is an enjoyable ride.
Sound Samples and Downloads